CHURCH SERVICES

Every Sunday Liturgy commences at 10:00am
First Saturday of each month 6:00pm Vespers in English followed by a short lecture in the School Hall
If you are celebrating Slava please contact Fr Sasa to make arrangements.
SCHEDULE OF SERVICES AND EVENTS APRIL TO JULY
April 
4th Liturgy at 10am later that day Sunday Night Vespers followed by lecture by Rev Fr Aleksandar Milutinovic "Christ is coming who to believe?"
7th The Annunciation Liturgy at 9am
11th Liturgy at 10am
18th Liturgy at 10am
21st Liturgy of Pre-Sanctified Gifts commencing at 7pm. For those who have prepared by fasting and prayer can receive Communion. Please refrain from eating or drinking from 12noon.
Easter Services
24th Saturday Resurrection of Lazarus 9am Liturgy followed by 6pm Vespers Service Vrbica
25th Palm Sunday Liturgy at 10am followed by luncheon in the School Hall
28th Holy Wednesday Service Blessing of Holy Oil at St Arch-Deacon Steven at Rooty Hill
29th Holy Thursday Liturgy at 10am, then at 6pm Reading of the 12 Gospels
30th Great and Holy Friday10am Reading of the Hours then at 6pm Vespers and procession with the Holy Shroud.
May
1st Great and Holy Saturday Liturgy at 9am later at 12 midnight Resurrection Matins
2nd Holy Liturgy at 10am EASTER – Resurrection of our Lord Jesus Christ
6th May Feast Day of St George Liturgy at 7am. Blessing of Slava Kolač from 6am and after the Liturgy
9th and 16th Liturgy at 10am
23rd and 30th Liturgy at 10am
June
3rd Thursday Feast Day of St Constantine and St Helen Liturgy at 9am
6th Liturgy at 10am
10th The Ascension of our Lord Jesus Christ Liturgy at 9am
13th Liturgy at 10am
20th Pentecost Trinity Sunday Liturgy at 10am
27th Liturgy at 10am
28th Vidovdan and start of St Peter and St Paul Fast. Liturgy will be held at St Lazarus Alexandria
July
4th and 11th Liturgy at 10am
12th Feast Day of St Peter and St Paul Liturgy at 9am
17th Saturday Night Evening in Krajina Ličko Prelo Entry Fee $30, Dinner $20, drinks extra
18th and 25th Liturgy at 10am
IMPORTANT INFORMATION
Blessing of homes will take place from the second week of Great Lent up to the Feast Day of St George or contact Fr Sasha for details.
Please refer to Church Calendar 2021
Registration If you would like to receive Parish Newsletters and invitations please register Register
Information If you need help click on the Information Tab Information
Photo of our Church Interior Photo by Liz Ham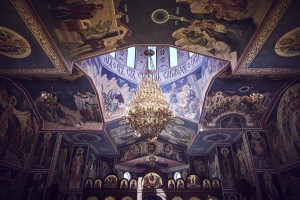 DRONE FOOTAGE video on YouTube
Special thanks to Brendan Abbott from IMPACT AERIALS, who filmed and designed a short video clip on our Church. Also, technical assistance by Jeffrey Wang and Simeon Lukich. Great job Brendan! If you need Drone footage for your next video project please contact Brendan at IMPACT AERIALS 0400 286886.
ARCHIVE Sermons and Lectures
Bible Studies – In an effort to improve our spiritual growth we include weekly sermons from Sunday Liturgy. Please read and pass on to others. Sermons are in English and Serbian.
St Sava – A Nobleman in Christ

32nd week after Pentecost Sermon 32
Sunday after Theophany
Prior to Theophany
28th week after Pentecost Sermon 28
27th week after Pentecost Sermon 27
26th week after Pentecost