CHURCH SERVICES

Every Sunday Liturgy commences at 10:00am
First Saturday of each month 6:00pm Vespers in English followed by a short lecture in the School Hall
If you are celebrating Slava please contact Fr Sasa to make arrangements.
IMPORTANT INFORMATION
Dear brothers and sisters,
It is a great pleasure to announce our next major parish project. With the blessing of our spiritual leader Bishop Siluan, we have begun a project that will finally complete the interior of our church. The project comprises woodcarving of interior furniture and includes:
Main church doors with four icons of the four Evangelist carved on the outer side of the door
Enclosing the two steel posts in the entry area
Christ's tomb
Central icon stand that will hold up to three icons
Stands for chanters on the left and right hand side
Bishop's throne and twelve chairs in the altar area
Altar side door
Custom made cabinet specially designed for all sacred items
Custom made cabinet for candle storage
Storage at the rear of the church under the stairs
Seating also known as "Stasidias" – thirteen on each side of the church.
Each of the above items are hand carved using walnut, oak or birch. As you can imagine, quality is never cheap. The project cost is $96,000 however we have already raised via the Parish Project Fund $63,000 so the task is to raise the remainder of $33,000.
You can help by contributing in following ways:
Become a sponsor for a specific item, usually done for the well-being of the family, or for the repose of the souls of your loved ones.
Make a donation for this project in church every Sunday during the Liturgy
Attend the GALA DINNER – our 70th Anniversary celebrations. Details below
If you are not able to attend the fundraising dinner you can donate by making direct deposit to the Parish Project bank account: Westpac Bank Mona Vale BSB 032-196 A/C 198-368.
In advance many thanks for your donation and support.
Keep in mind that every project done on our property is for the benefit of the future generations of Serbian kids. Our sacred duty is to make them proud with spiritual, cultural and historical inheritance that Serbian nation possesses. That it the reason you are invited to be part of this project and incorporate yourself and your children in our St. Sava church.
GALA DINNER and RECITAL – 6 October 2018
As you all probably already know, our St Sava parish is the first and oldest Serbian Orthodox Church in Australia established officially on 26 February 1949. However, by mid 1948 several meetings were taking place in the family homes of local Serbians on the Northern Beaches eager to start a Church School Community. For that reason we are organising 70th Anniversary celebrations in 2018 and 2019, the first of which is a Gala Dinner and Recital. All proceeds from the Gala Dinner go towards the woodcarving of interior furniture in the church.
The Program will include commemorating:
Foundation of the Serbian Orthodox Community and the seeds of the Diocese for Australia and New Zealand 1949
One hundred years since the conclusion of the Great War 1914-1918
The creation of the Serbian Orthodox Church in 1219 (granted autocephalous status by the Ecumenical Patriarch)
The Gala Dinner will be the opportunity to celebrate and reflect on the above-mentioned anniversaries. Attending will be His Grace Bishop Siluan along with clergy from NSW.
Also attending will be our special guests from the St Seraphim Sarovski choir from Pancevo. And of course performing will be our folkloric group, singing group and solo singer Igor Jovanovic.
We will also be announcing an important award and recognition to an individual who has been a tireless worker in our Parish. That evening begins with Vespers in our church at 6.00pm followed by main celebration in the School hall at 7pm. The tickets are $100 includes donation, dinner and drinks. Reservations are essential, please contact: Zoran Cucak 0421 601 891 or Nebojsa Sladakovic 0438 588 990.
INGLESIDE LAND REDEVELOPMENT: Our guests for the Gala Dinner will also include representatives from, local, state and federal government. We need to impress upon these political leaders that we are a thriving Christian Community and any loss of land cannot be accepted. We understand that Ingleside area will change with the need for additional housing in Sydney. However, the needs of our Parish must take precedence. A final decision has not yet been made nevertheless we must remain vigilant and resist any attempt to acquire a third of our site (proposed acquisition includes; entry driveway, parish house and 52 parking spaces). How can I help? Attend the Gala Dinner with your family and show that we are vibrant and united community that has been an integral part of the wider community on the peninsula for the past 70 years and intends to remain so.
Fr. Sasha Radoicic with the Parish Committee
Registration If you would like to receive Parish Newsletters and invitations please register Register
Information If you need help click on the Information Tab Information
Photo of our Church Interior Photo by Liz Ham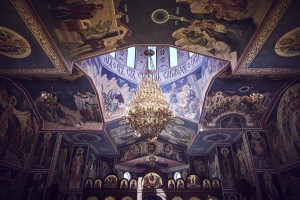 DRONE FOOTAGE video on YouTube
Special thanks to Brendan Abbott from IMPACT AERIALS, who filmed and designed a short video clip on our Church. Also, technical assistance by Jeffrey Wang and Simeon Lukich. Great job Brendan! If you need Drone footage for your next video project please contact Brendan at IMPACT AERIALS 0400 286886.
ARCHIVE Sermons and Lectures
Bible Studies – In an effort to improve our spiritual growth we include weekly sermons from Sunday Liturgy. Please read and pass on to others. Sermons are in English and Serbian.
St Sava – A Nobleman in Christ

32nd week after Pentecost Sermon 32
Sunday after Theophany
Prior to Theophany
28th week after Pentecost Sermon 28
27th week after Pentecost Sermon 27
26th week after Pentecost